"Duron Carter turns the corner on his season with a memorable catch and a breakout game."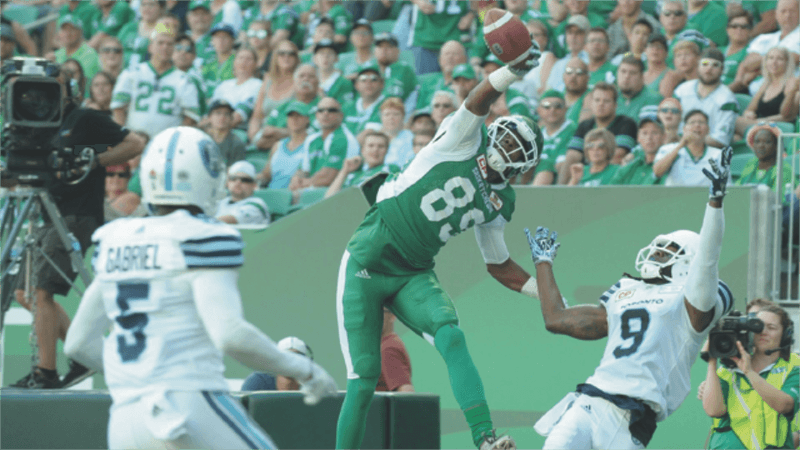 DURON CARTER HAD PROMISED to score a touchdown for Paige Hansen and her mother, after seeing his name on a sign they had made, paying tribute to three names of former U S Presidents: (Duron) Carter, (Namaan) Roosevelt and (Bakari) Grant.
The Hanson's have season tickets in the front row and always talked to Carter before home games. Carter saw the sign, commented that "...was awesome" and promised them a touchdown.
With the Riders trailing in the first half, Carter feeling frustrated at the way the game was unfolding, performed a one-handed, leaping back-handed grab of an 18-yard touchdown pass from Kevin Glenn.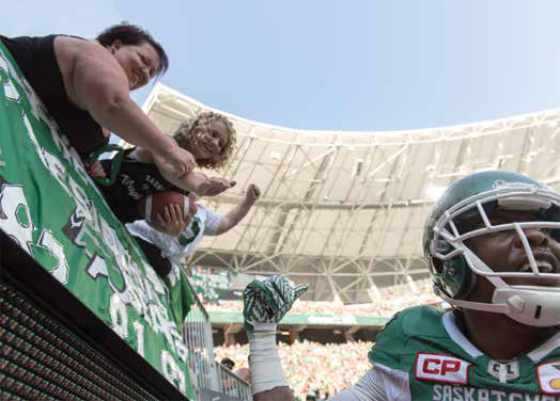 Carter lifted the fans to their feet with the big catch, tying the game, not only generating momentum for the Riders, but also creating a memorable experience for an ecstatic 12 year old Paige Hansen, for whom Carter then crossed the field in a sold out stadium, and gave her the ball - just as he had promised.
It was more than just a touchdown for Hansen. She was diagnosed with leukemia when she was 18 months old and had to undergo treatment for three years.
To ease the situation, and to help focus attention elsewhere, Paige and her mother became Rider football fans over the years, growing to love the game, attending Rider camp in Saskatoon, practices and games, all while hailing from Sturgis, Saskatchewan. She developed a friendship with players over the years and lately Duron Carter.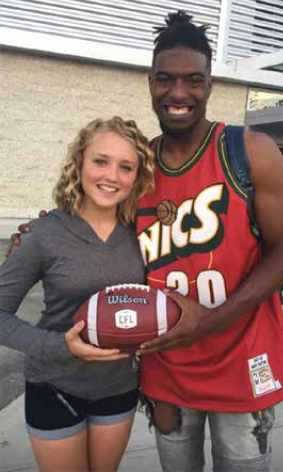 Carter only found out later that Paige was a cancer survivor from her mother's tweet about the catch and receiving the ball. Paige also serves as ambassador for the Children's Wish Foundation and the Canadian Cancer Society. "She is now cancer free."
It was a big catch, at a big moment, done in style, "That may rate as one of the top catches that I've ever seen in seventeen years." said Riders' quarterback Kevin Glenn.
"Paige also serves as ambassador for the Children's Wish Foundation and the Canadian Cancer Society."
Even the other receivers were awestruck, "That was an amazing catch, ...amazing!" commented fellow Riders' receiver Bakari Grant.
It was also an amazing catch for Paige Hansen. A dream come true.